BECKER ANTIQUES
ANNOUNCING A PART OF THE PATRICK DONALD COLLECTION



BECKER ANTIQUES ANNOUNCING A PART OF THE PATRICK DONALD COLLECTION NOVEMBER 2019


The unique collection comes to market this November | Featuring Patrick Donald's twin collecting passions: furniture, objects and pictures from the Elizabethan and Jacobean eras, and Japanese arms and armour and Japanese works of art | The collector created bespoke room settings within his Putney home to display his items in a series of themed assemblages | Close friends describe Patrick Donald as a 'latterday Jacobean gentleman'
Patrick Donald the collector 'drenched in history' who fashioned his Putney into his own fascinating museum
"My definition of a collector, is an individual whose relationship with the objects he collects, be it one piece or a hundred and one, is based on enjoyment, pride of ownership, scholarship and humility… "
Patrick Donald
Patrick Donald was born in Belfast in June 1939, just before the outbreak of World War II, and his family re-located to Toronto, Canada, when Donald was 14 years old. His passion for antiques was well underway before the move across the Atlantic and was triggered by visits to Belfast's Ulster Museum; several years later he recalled that, 'As a scabby-kneed schoolboy with my socks at half mast, I daily visited the museum in Belfast, and local antique shops, an early victim to the fascinating and beguiling lure of Antiques'.


Whilst living in Canada Donald acquired a black belt in the martial art of kendo, his study of the discipline introduced him to Japanese culture, and he soon became captivated by the country's artistic heritage, its deities and ancient rituals. In the late 1980s Patrick Donald left Canada and settled in Putney, London. He had previously worked as a graphic designer and a set designer for various studios and the Canadian Broadcasting Corporation, but, on his return to the UK did not need to work. Donald became a volunteer guide at Fulham Palace and here in this environment his broad interest in antiques honed in on the Jacobean period specifically.
A good friend describes him as being 'drenched in history' – he typically walked over 100 miles a week around London discovering quirky tombs in cemeteries such as Brompton and Mortlake and visiting historic pubs. Drawing on his skills as a set designer his home became 'a theatre of his mind', designed to convey an impression or gestalt: the ground floor rooms housed his Jacobean pieces whilst the first floor displayed his oriental items.


The bond between the original owner, and the contemporary viewer, is more powerful than with most other artefacts…'. He started collecting Japanese works of art and arms and armour whilst in Canada and attended conferences with like-minded collectors. Later he would describe the importance of this collecting area in his life, 'Most of my most valued, life-long friendships have been initiated by a mutual interest in Japanese art and culture…Japan and its traditional artefacts become our focus when we meet'.


Interestingly, despite having a highly inquisitive nature, Donald never visited Japan; a close friend explains that as his love for Japanese traditions and history was so strong he was concerned that a visit might temper this through his exposure to the inevitable realities of the modern day country.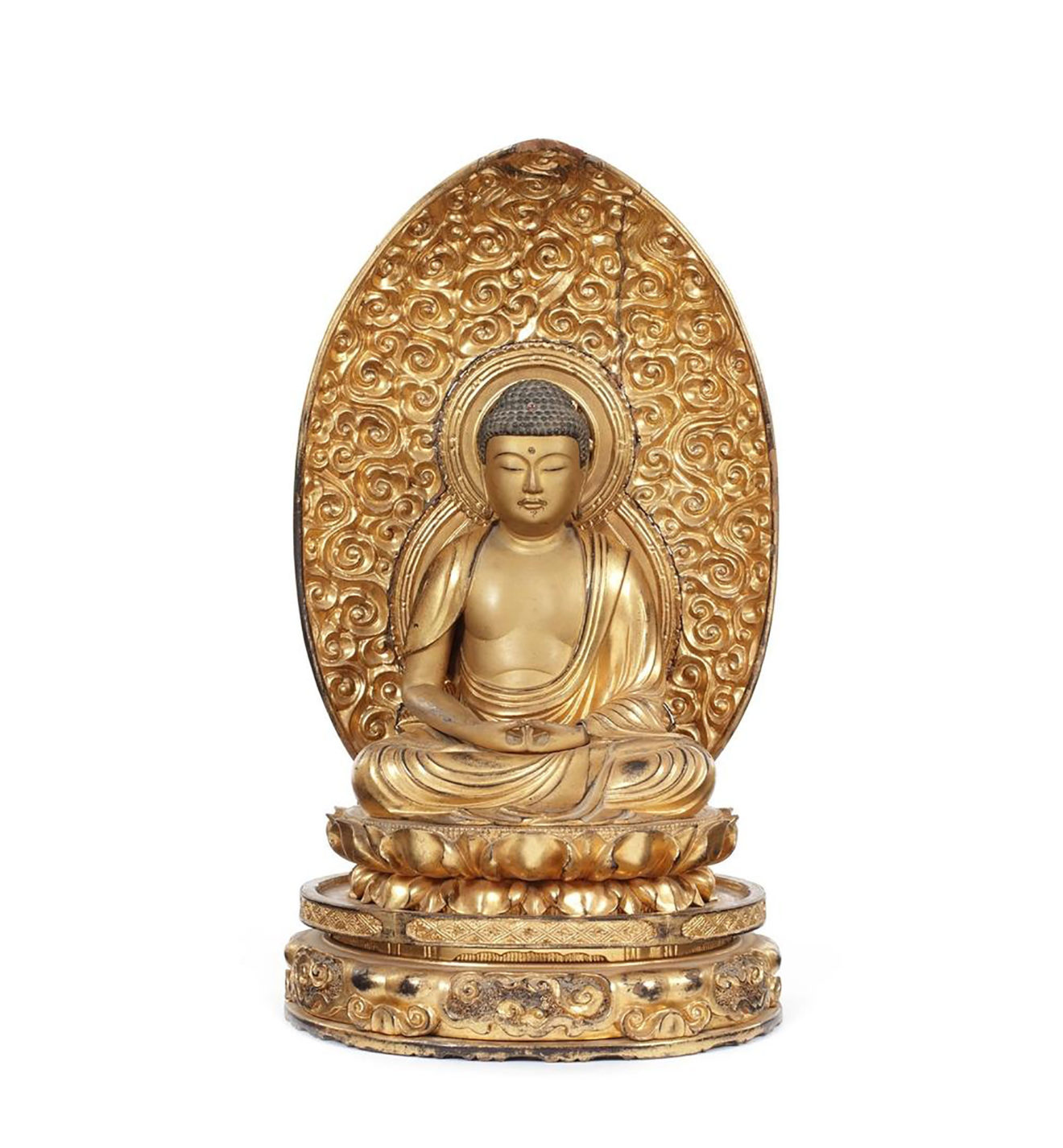 Gilt Carved Figure of Amida Nyorai (Amitabha)
Edo period (1615 – !868), Japan, high 37 cm.
Provenance: From the unique collection of Patrick Donald, London, UK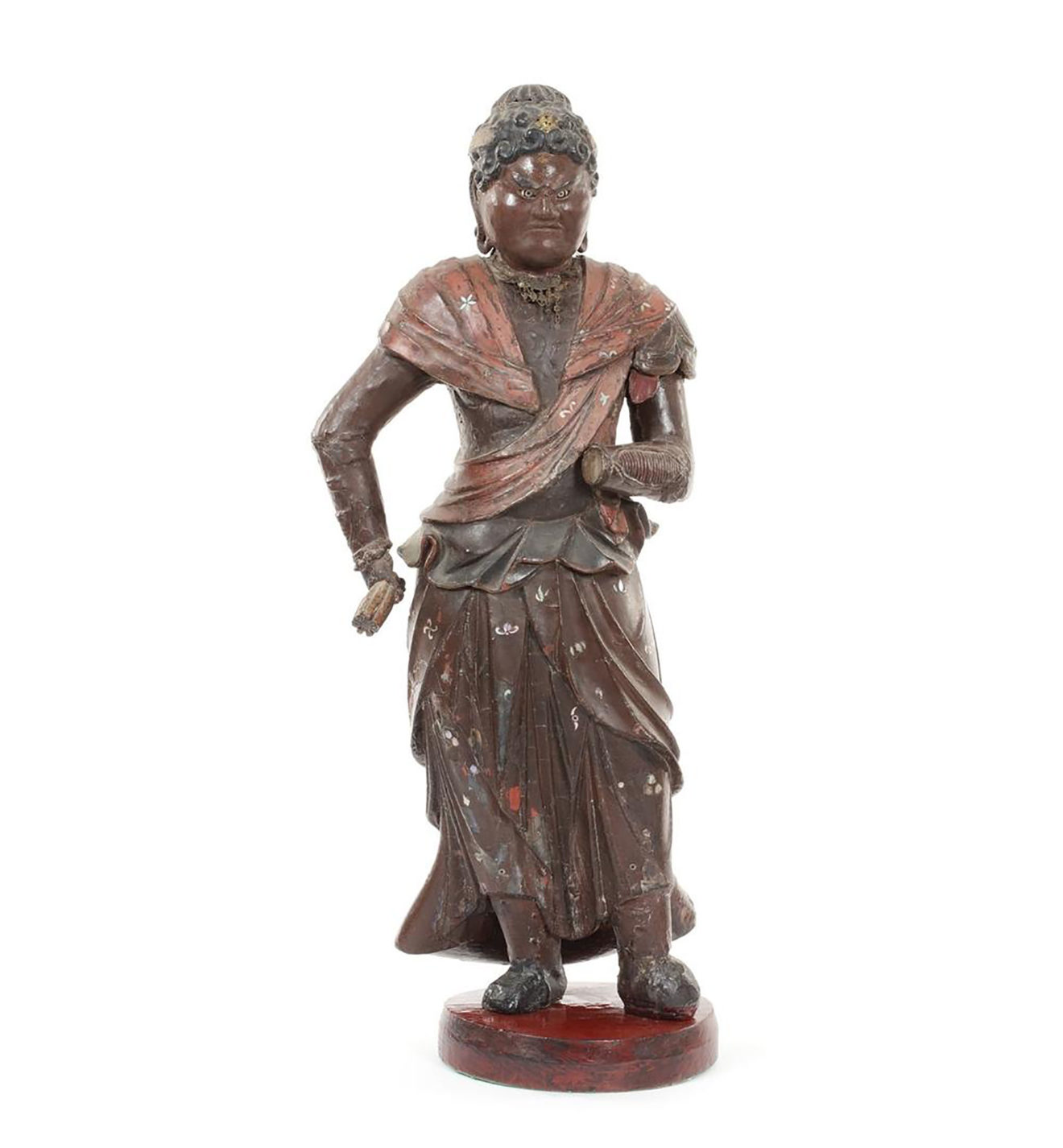 Rare Polychrome Wood Figure Taishakuten.
Muromachi period (1336-1573), ca. 16th century. Japan
Provenance: From the unique collection of Patrick Donald, London, UK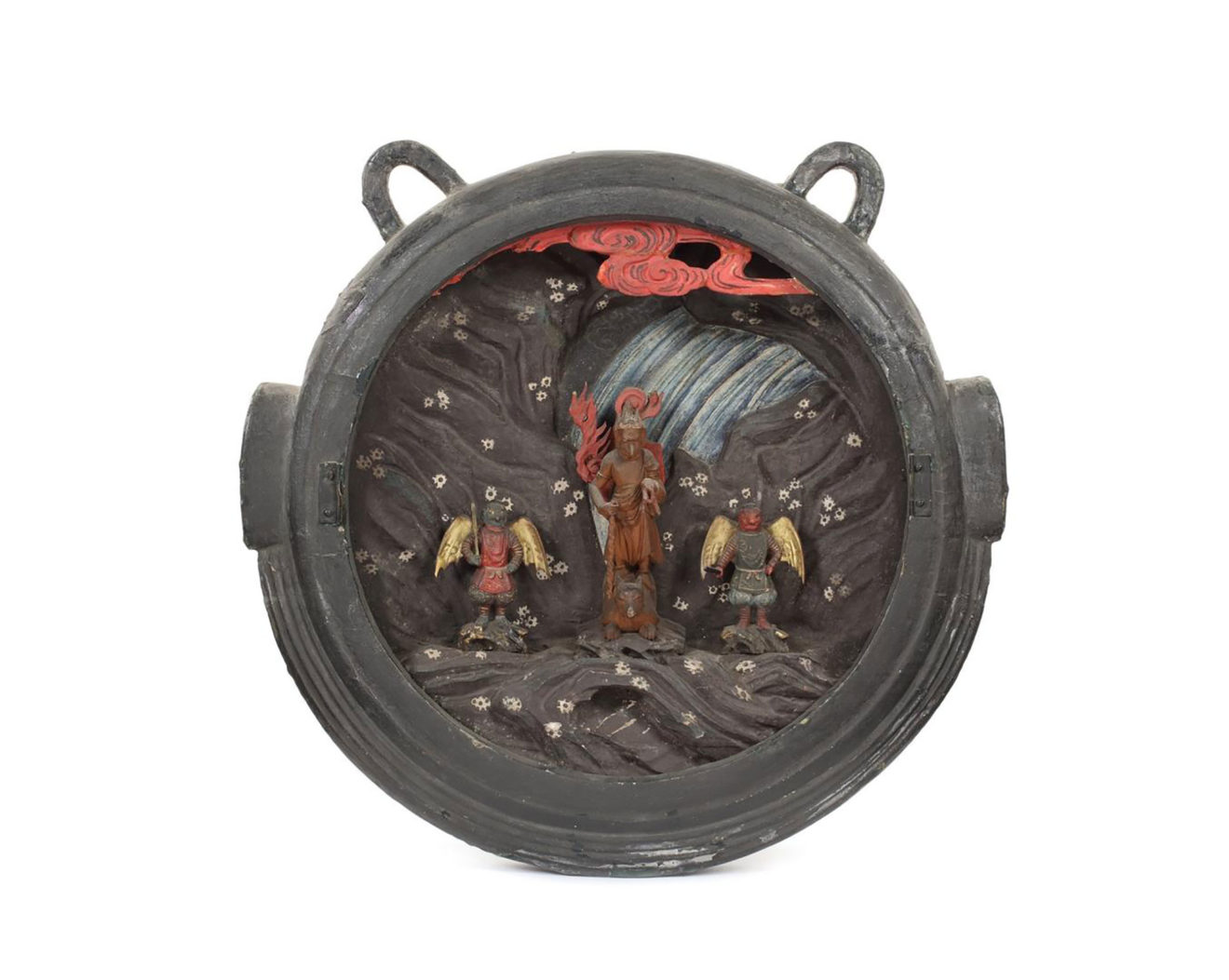 Unique Ebonised Shrine with Izuna Gongen.
The zushi in the form of a gong, the interior carved with a figure of Izuna Gongen standing on a fox, with two armed attendants.
Meiji period, Japan, 26cm wide
Provenance: From the unique collection of Patrick Donald, London, UK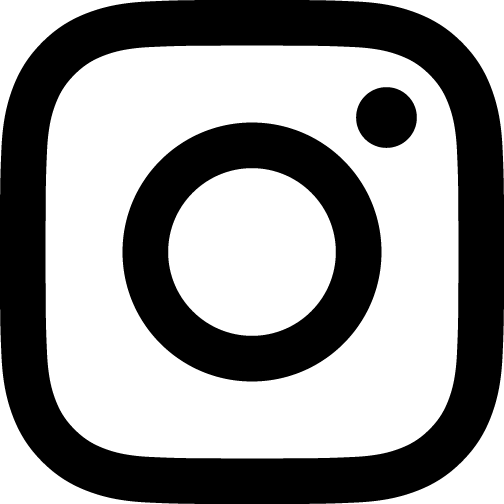 Our new Instagram Page
We have just released our brand new Instagram page.