A Lobi figure
Burkina Faso
59.5cm high, on a base. (2)
Provenance: Old private collection, UK
* The Lobi belong to an ethnic group that originated in what is today Ghana. Starting around 1770, many Lobi peoples migrated into southern Burkina Faso and later into Côte d'Ivoire. The group consists of around 180,000 people. Lobiri is the name of the language spoken by the Lobi people.
The Lobi are well documented for their animist beliefs, which involves regular interaction with ancestral and other types of spirits such as thila and kontuoursi. Interaction with these spirits commonly takes place in a thilduu (domestic shrine room), dithil (village shrine), and at other places in nature inhabited by spirits. Christian missionaries working in southern Burkina Faso have reported that an elderly man in a Lobi village once renounced the spirits in favor of Christianity by discarding his fetishes in a nearby lake. As he turned his back on the traditions, the fetishes lept out of the lake onto his back again to reclaim him. Lobi people who convert to Christianity or Islam now usually burn their fetishes. Or, they may sell them on the market.
In Lobi animism, Thangba Yu is the creator of all living things. Lobi peoples have no direct contact with Him, but are dependent on nature spirits known as thila, invisible intermediaries that can harness their supernatural powers towards good or evil. They set rules soser, which dictate how a Lobi should behave in important aspects of life. Similar to Greek or Roman gods, thila themselves are subject to mortal virtues and vices. In Lobi society, there is often a thildaar (village diviner) that may also act as a dithildaar (village priest; each village has only one) that interprets soser for the local community. A particularly intuitive and receptive thildaar is capable of interpreting as many as fifty or more spirits at a time.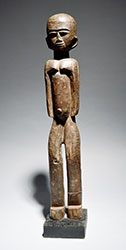 ---
Complete the contact form below to request more information about this item.