S O L D
Chinese Ox Cart Diorama
Chinese Ox Cart Diorama. A model cart in beige fabric with two large wheels, simulated grid to the front and aperture to the rear; an ox between the shafts with original red, white, black and terracotta pigment.
Originally, oxcarts were used to carry goods. However, in the Han Dynasty it became the main mode of transport for carrying people. From the number of oxen an oxcart uses, one can tell which class the owner belongs to; for example, the emperors of the North Qi Dynasty used oxcarts with twelve oxen.
Northern Qi Dynasty (550 to 577 A.D.)
Long 53 cm, high 31 cm
Total 5 pieces
Very Large and Impressive Chinese Terracotta Ox Cart Diorama, TL test- Long 53 cm. – China – Northern Qi Dynasty (550 to 577 A.D.)
– A Certificate of Authenticity from Becker Antiques (specialist in Chinese pottery since 1969, Amsterdam) will accompany the item.
– The result of the thermoluminescence test, is consistent with the dating of the item, Northern Qi dynasty (ca. 1600 years old). Sampling in 3 different points
– Provenance: Property of a Noble Dutch gentleman; acquired 1980s-1990s on New York art market.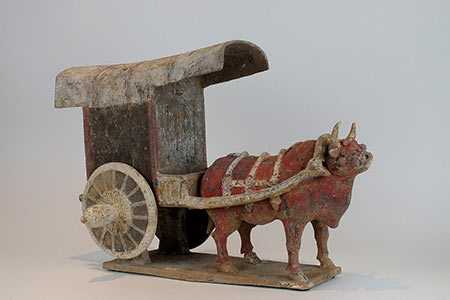 Complete the contact form below to request more information about this item.