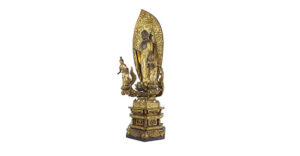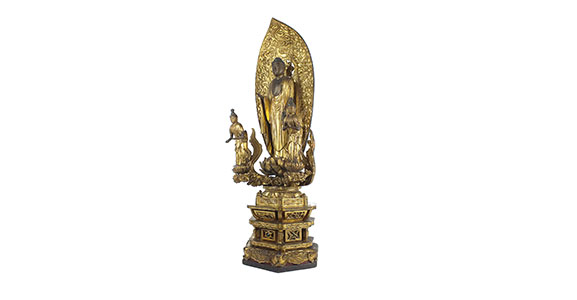 Gilded Wood Amida Triad
Early 18th century, Edo period.
Height 85 cm.
Provenance: Old private collection, Cannes, France
Unusual to find a triad, on the market. Very rare!
Our Guarantee: The above item is guarantee to be of the time period and condition as described, has been exported legally and is legal to buy and sell under all international lows to cultural patrimony.
Composing a central standing figure of Amida Buddha, his right hand holding a object (now missing) and his left held down facing outward in the yogan'in gesture of welcome, the byakugo in the forehead and the nikeishu in the hair both inlaid in crystal, a vertical kohai nimbus behind, supported on an elaborate multi-stage pedestal consisting of a lotus blossom on a footed stand above a lotus-petal dais, itself resting on several octagonal components over a red lacquered based; to either side figures of the bodhisattvas Seishi and Kannon, each slightly than the Amida figure and leaning forward, one with hands raised and the other with hands lowered, each supported on a lotus blossom above a branched-cloud bracket that slots into the lowest part of the pedestal.
– A Certificate of Authenticity from Becker Antiques (specialist in Japanese art since 1969, Amsterdam) will accompany the item.
Condition: Wear commensurate with age and use, some small cracks to the lacquer, repairs, the two small madorlas form the Seishi and Kannon are missing. The Buddha figure, the two bodhisattvas, the lotus base and the madorla all original. Furthermore for its age very good condition. See all the photos. Very good piece.
Important information.
It will be professionally packed and safely send in a wooden crate by FedEx.
Buyers are responsible for import regulation and restrictions of their own country
About us
Becker Antiques is one of the most leading reputable antique dealers in the Netherlands. Becker Antiques is a name and place that speaks of excellent antiques and art, superb service and worldwide expertise. Founded in 1969 by Jan Simon Becker, Becker Antiques is based in Museum quarter, Amsterdam Old-South (Oud-Zoud), in a magnificent five-floor townhouse build 1891, at a few minutes from "Rijksmuseum" (National Museum of Art), the Van Gogh Museum and the famous "Royal Concertgebouw".
Becker Antiques main field covers ceramics – pottery funerary figures (dated from the Han through the Ming dynasties), Buddhist sculptures and other Chinese works of art. Our other sections are Asian works of art – concerns objects from Japan and South East Asian countries including bronze, stone and wooden sculptures, Chinese furniture from the Qing Dynasty and of course occasional other items.
For the last 51 years we have been selling antiques to museums, private collectors and dealers all over the world.
Complete the contact form below to request more information about: Gilded Wood Amida Triad