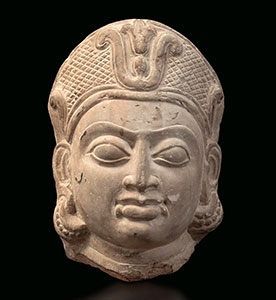 Buff Sandstone Head of a Goddess
Buff Sandstone Head of a Goddess. Carved in high-relief, depicting a goddess with sunken cheeks, bulging eyes and closed mouth, wearing large cylindrical earrings in elongated earlobes, with elaborate headdress, on a wooden stand
Rajasthan, Northern India
Circa 11/12th century.
High 27cm
*Art of Rajasthan
Apart from the architecture of Rajasthan, the most notable forms of the visual art of Rajasthan are architectural sculpture on Hindu and Jain temples in the medieval era, in painting illustrations to religious texts, beginning in the late medieval period, and post-Mughal miniature painting in the Early Modern period, where various different court schools developed, together known as Rajput painting. In both cases, Rajasthani art had many similarities to that of the neighboring region of Gujarat, the two forming most of the region of "Western India", where artistic styles often developed together.
The architecture of Rajasthan has usually been a regional variant of the style of Indian architecture prevailing in north India at the time. Rajasthan is especially notable for the forts and palaces of the many Rajput rulers, which are popular tourist attractions.
Most of the population of Rajasthan is Hindu, and there has historically been a considerable Jain minority; this mixture is reflected in the many temples of the region. Māru-Gurjara architecture, or "Solaṅkī style" is a distinctive style that began in Rajasthan and neighbouring Gujarat around the 11th century, and has been revived and taken to other parts of India and the world by both Hindus and Jains. This represents the main contribution of the region to Hindu temple architecture. The Dilwara Jain Temples of Mount Abu built between the 11th and 13th centuries CE are the best-known examples of the style.
The Adhai Din Ka Jhonpra mosque in Ajmer (no longer in religious use) is an important early example of Indo-Islamic architecture in a state not otherwise notable for this; though the Ajmer Sharif Dargah is another early building. However there is considerable influence from Mughal architecture in palaces and houses, and Rajasthan has some claim to have sent influence back in elements like the jharokha enclosed balcony and chhatri open pavilions.
Māru-Gurjara architecture, or the "Solaṅkī style" features large amounts of sculpture, with the emphasis usually on great numbers of small, sharply-carved figures, rather than larger single figures or groups. These include friezes with repeated figures of animals, sometimes with human riders, running around the bases of temples.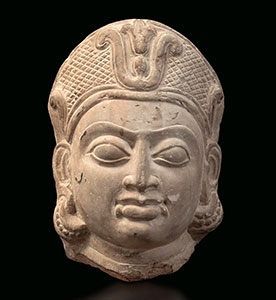 ---
Complete the contact form below to request more information about this item.