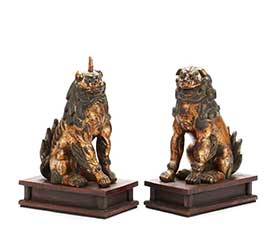 Gilt Wood Guardian Lions
Gilt Wood Guardian Lions, each lion is carved from a single piece of wood, their manes and eyebrows are painted in green and blue pigments with gilt highlights over the rest of the body, their eyes are detailed with black irises outlined in brown, back bones are articulated on both animals, and they share the same style fluffy tail pointing upwards and fanning to the sides, the guardian pair includes a shishi with curly mane and eyebrows and open mouth and a komainu with a horn and a flowing mane, both seated on raised carved wooden rectangular bases.
A Pair of Japanese Carved Gilt Wood Komainu and Shishi Guardian Lions
DOA 25 1/2 x 10 x 17 1/2 in. 65x43x25 cm.
Edo period (1615-1868), ca. 18the century, Japan
Provenance: From the Collection of the late Keith Stanley, Professor Emeritus of Classical Studies at Duke University, North Carolina
These guardian lions would originally have flanked the entrance to a Buddhist temple or a Shinto shrine in Japan. This tradition dates back to the Heian period (794-1185 CE), where pairs of guardian figures were placed to warn off evil spirits from entering the temple and causing harm to the sacred deities inside. The guardian on the right is a lion shishi and on the left a lion-dog komainu distinguished by a single horn. The shishi has an open mouth, symbolically intoning the syllable "a", while the komainu has a closed mouth, indicating the syllable "un," the first and last letters of the Sanskrit alphabet symbolizing the entirety of the cosmos.
Condition: Overall good condition; some scattered surface losses to pigments and gilt; some rubbing and slight nicks to edges; minor stress cracks to wood.
Important information.
The seller guarantees that he is entitled to ship this lot.
It will be professionally packed and safely send in a wooden crate by FedEx.
Buyers are responsible for import regulation and restrictions of their own country
*Komainu (狛犬), often called lion-dogs in English, are statue pairs of lion-like creatures either guarding the entrance or the honden, or inner shrine of many Japanese Shinto shrines or kept inside the inner shrine itself, where they are not visible to the public. The first type, born during the Edo period, is called sandō komainu (参道狛犬, lit. 'visiting road Komainu'), the second and much older type jinnai komainu (陣内狛犬, lit. 'shrine inside komainu'). They can sometimes be found also at Buddhist temples, nobility residences or even private homes.
Complete the contact form below to request more information about: Gilt Wood Guardian Lions