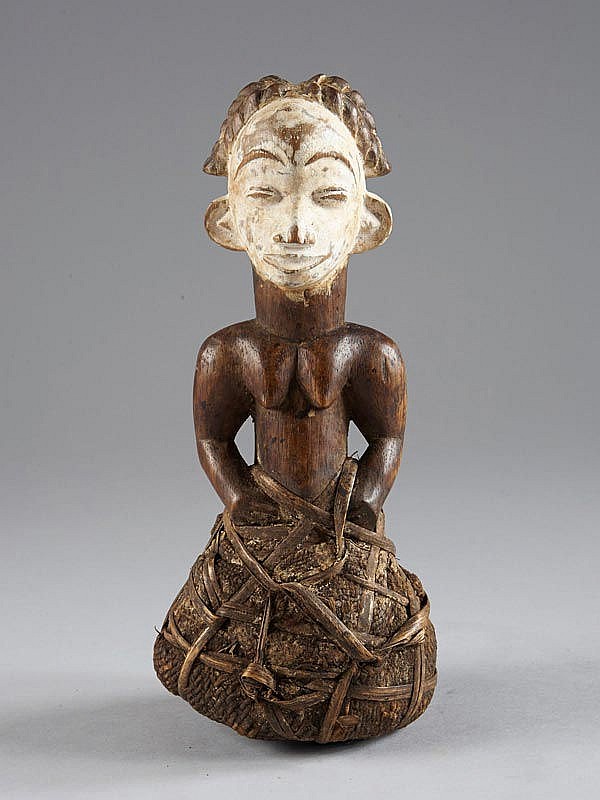 [wpsgallery]
S O L D
Superb Female Half Figure Punu Lumbo
P R O V E N A N C E:
Swiss private collection, Soleure
Reliquary Ensemble:  Female Half-Figure, Punu peoples;
Gabon,  Wood, pigments, hide, fiber, relics, organic matter
High 30, 5 cm.
Superb Female HalfFigure Punu Lumbo, Gabon, exceptionally rendered in a medium brown hardwood, with finely striated classic raised central sugar-loaf coif with side locks, the white pensive face with coffee-bean eyes and delicate incised brows. The nose and smiling mouth delicately and sensually rendered. The body with pointed breasts, and protruding navel, aged patina with white and brown pigments.
Collectors are always looking for sweet or classic Punu masks comparable to the famous Helena Rubenstein example. In this standing figure, with its unique pedigree, these qualities are present and exceptional, even if we compare it with a comparable yet tougher" piece which in the 2006 Verite sale, (lot 184), was bought for 250,000 euros.
Michael Kan, 2008
---