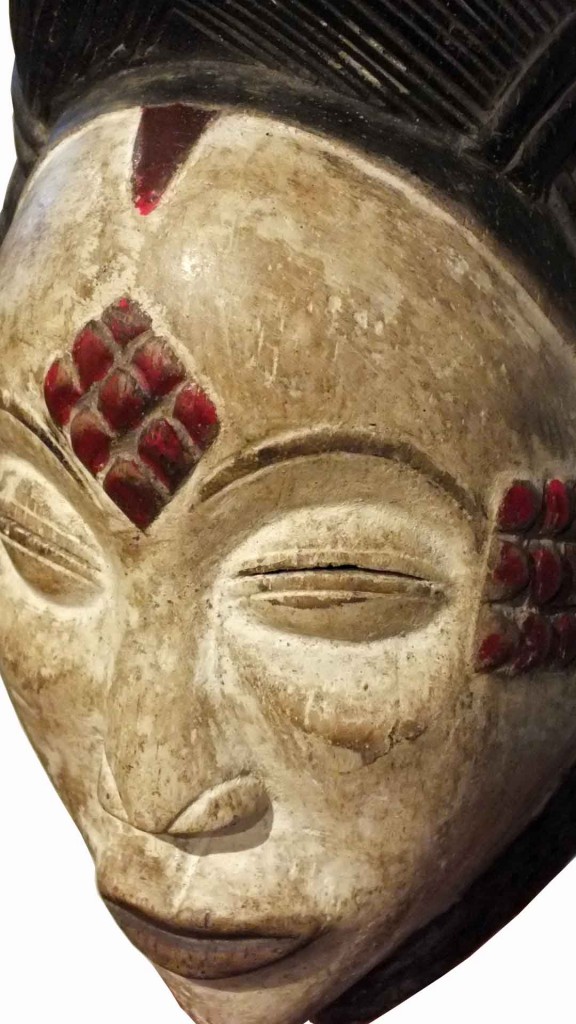 [wpsgallery]
S O L D
Punu Mask Gabon
High 30 cm., iron stand
Punu Mask Gabon, this classical Punu mask from southern Gabon, which represents an idealized female entity, is a superb celebration of the beauty of women and of their importance in the spirit world.
The small eyes of the mask have been remarkably treated, with their slightly swollen "coffee bean" eyelids and gently slated, incised slits. Emphasised by the long arched eyebrows and the accentuated relief of the cheek-bones, the concave eye-sockets seem to highlight the clear gaze of this spiritual being. The eyes of Punu masks are never fully closed: their sculptural treatment, with the eyelids seemingly slightly parted, rather suggests an internal, contemplative vision and a symbolic link between the living and the dead. Here the artist has succeeded in emphasising both the sensual beauty of youth and the serenity of death, the exceptional plastic qualities of the mask rendering it an impressive representation of the paradox of these masks which represent the dead young women of the Okuyi. The sensitivity of the gaze is accentuated by the patina, the powdery kaolin having softened through use and melded with the nuanced tones of the wood.
In perfect contrast to the mouth, with its closed, protruding red lips, the lower lip with some suggestion of a sensuous pout, the artist has employed nine large red scarification marks on the forehead and on the temples just in front of the ears. According to traditions recorded in situ, these masks commemorate the nine primordial clans of the Punu's historical myth. The superbly worked hair-style, with its large central lobe, flanked by two small side tresses, all of which are carefully worked with fine parallel lines which suggest the multitude of braids.
Punu masks represent a female which perched upon stilts intervene in the communal rites of the Okuyi. Punu society is matrilineal, and the Punu believe that the line of descent goes through the women not the man. For this reason "female" masks are of great importance, although of course the dancers who wear them are always men.
Louis Perrois, September 2009
Complete the contact form below to request more information about this item
[contact_form ]
---