S O L D
A Massive Gilt-Bronze Shakyamuni Buddha
A Massive Gilt-Bronze Shakyamuni Buddha. The Buddha is seated in vajrasana on a double-lotus base adorned with bead borders, clad in a sanghati with a floral hem, the folds elegantly draped over the shoulder. Note the extremely fine incision work overall, the heavy casting and the superb fire-gilding.
Provenance: From a private estate in US.
Condition: Excellent condition with some wear to gilding and traces of use. Minor nicks here and there. Remnants of blue, red and white pigments.
Dimensions: Height 30,5 cm. Ming
The left hand in dhyana mudra. The face shows heavy-lidded fish-shaped eyes and is centered by a raised urna, the hair is in tight curls over the prominent ushnisha topped by a knob. The underside is sealed with a copper plate.
Shakyamuni Buddha is the founder of the Buddhist religion. He lived and taught in India in the sixth century B.C.E., a time of burgeoning religious and philosophical thought from Greece to China. Born as the crown prince of the great Shakya Kingdom, the young Siddhartha Gautama was groomed to be a king in accordance with the wishes of his royal father. However, when he was about 29 years old, he learned of the deep suffering experienced in life by people. He left his palace life, gave up his fine garments and jewelry in order to find the causes of this suffering and the means to overcome it. After about six years of study, self-deprivation, and deep meditation he finally realized his goal. He had become an enlightened one (a Buddha). After this, he is said to have walked to a deer park in Sarnath (Benares) on the outskirts of Varanasi in India. Here he gave his first sermon, an event which is called the turning of the wheel of Buddhist law (Dharmacakra). The wheel as a metaphor for Buddha's teaching will become a prevalent symbol in Buddhist art.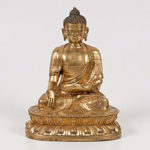 ---
Complete the contact form below to request more information about this item.