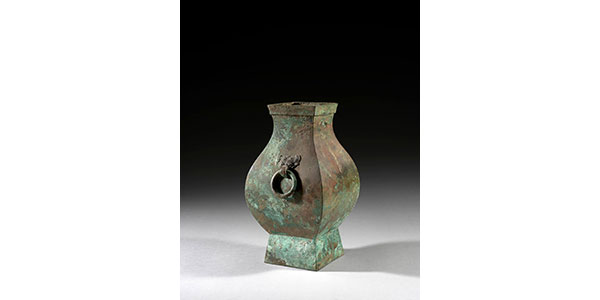 Magnificent Bronze Vase Hu, The faceted pear-shaped body, raised on a slightly spreading square foot, is applied to either side with a taotie mask handle suspending a loose ring.
S O L D
China, Han Dynasty (206 BC-220 AD)
Height 31 cm.
Literature comparison: Compare a similar bronze fanghu excavated at Shuihudi, Yunmeng, Hubei province, now in the Yunmeng County Museum, published in Zhongguo qingtongqi quanji ('Complete collection of Chinese archaic bronzes'), vol. 12, Beijing, 1998, pl. 9; and another in the collection of the Fujii Yurinkan, Kyoto, illustrated in Sueji Umehara, Nihon shucho Shina kodo seikwa ('Select Relics of Ancient Chinese Bronzes from Collections in Japan'), vol. 6, Osaka, 1964, pl. 471.
Auction result comparison: Compare with a related fanghu of larger size at Christie's New York in Fine Chinese Ceramics and Works of Art on 18-19 September 2014, lot 1008, sold for USD 9,375.
Quadrangular baluster, two relief taotie masks supporting mobile rings forming the handles; green oxidation.
Provenance:
– Old private collection France.
– One of the biggest auction houses in Paris.
*A hu is a type of wine vessel that has a pear-shaped cross-section. Its body swells and flares into a narrow neck, creating S-shaped profile. While it is similar to you vessel, hu usually has a longer body and neck. The shape of hu probably derives from its ceramic prototype prior to the Shang dynasty (1600-1045 BC). They usually have handles on the top or rings attached to each side of neck. Many extant hu lack lids while those excavated in such tombs as Fu Hao's indicate that this type of vessel might be originally made with lids. Although it is more often to see hu having a circular body, there also appears hu in square and flat rectangular forms, called fang hu and bian hu  in Chinese. In addition, hu often came to be found in a pair or in a set together with other types of vessels. As wine had played an important part in the Shang ritual, the hu vessel might be placed in the grave of an ancestor as part of ritual in order to ensure a good relationship with ancestor's spirit.
Important information.
It will be professionally packed and safely send by FedEx.
Buyers are responsible for import regulation and restrictions of their own country
The seller will take care that any necessary permits, like an export license will be arranged, he will inform the buyer about the status of it if this takes more than a few days.
About us
Becker Antiques is one of the most leading reputable antique dealers in the Netherlands. Becker Antiques is a name and place that speaks of excellent antiques and art, outstanding service and worldwide expertise. Founded in 1969 by Jan Simon Becker, Becker Antiques is based in Museum quarter, Amsterdam Oud-Zoud, in a magnificent five-floor townhouse build 1891, at a few minutes from "Rijksmuseum" (National Museum of Art), the Van Gogh Museum and the famous "Royal Concertgebouw".
Becker Antiques main field covers ceramics – pottery funerary figures (dated from the Han through the Ming dynasties), Buddhist sculptures and other Chinese works of art. Our other sections are Asian works of art – concerns objects from Japan and South East Asian countries including bronze, stone and wooden sculptures, Chinese furniture from the Qing Dynasty and of course occasional other items.
For the last 52 years we have been selling antiques to museums, private collectors and dealers all over the world.
Complete the contact form below to request more information about: Magnificent Bronze Vase Hu