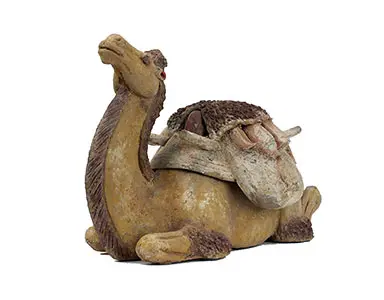 Pottery Figure of a Reclining Bactrian Camel
S O L D
Pottery Figure of a Reclining Bactrian Camel. The lively camel well modelled. With head raised in a bray and kinked tail swished to one side. The tufts of hair on his head. Neck and body simply indicated with combed incising and stippling. Two large bags slung over the large saddle cloth fitted over the two humps. The head facing forward, the front legs tucked beneath the chest and the rear legs crouching as it about to rise. Traces of pigment and earth encrustation.
Compare the reclining camel sold by Sotheby;s New York, lot #566 and Indianapolis Museum of Art illustrated by Mino and Robinson, Beauty and Tranquillity: The Eli Lilly Collection of Chinese Ceramics, Indianapolis, 1983, pl. 59 and 60. And the pair in Klapthor, Chinese Ceramics from the Collection of The Baltimore Museum of Art, Baltimore, 1993, no. 7.
However, the present example is rather more unusual in the details of the saddle bags and cloth.
Excellent condition. An intact (not broken or repair)!!!
Tang dynasty (618 – 907)
Long 40 cm, high 24 cm.
Original pigments, very important!
Our Guarantee: The above item is guarantee to be of the time period and condition as described, has been exported legally and is legal to buy and sell under all international lows to cultural patrimony.
Provenance:
Very important and old Dutch private collection, Mr. W. R., collected before 1995.
– A certificate of authenticity from Becker Antiques (specialist in Chinese pottery since 1969, Amsterdam) will accompany the item.
– All items can be bought/sold legally under the cultural patrimony covering The Netherlands and are guaranteed to be as described, or else your money will be refunded.
– The result of the thermoluminescence test, is consistent with the dating of the item, Tang dynasty, 1340 years old. Sampling of 3 different points.
– Extra test: Pre-dose test has been done: Pre-dose test confirms old firing without any kind of artificial x-ray treatments!
Important information.
The seller guarantees that he is entitled to ship this lot.
It will be professionally packed and safely send in a wooden crate by FedEx.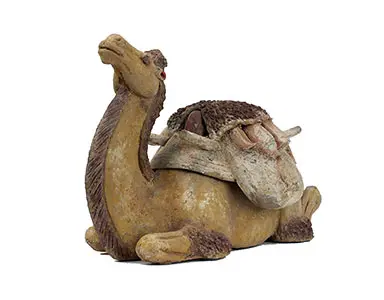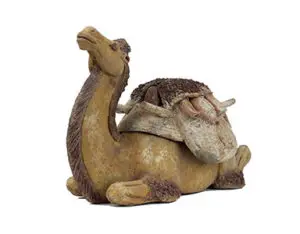 Complete the contact form below to request more information about: Pottery Figure of a Reclining Bactrian Camel