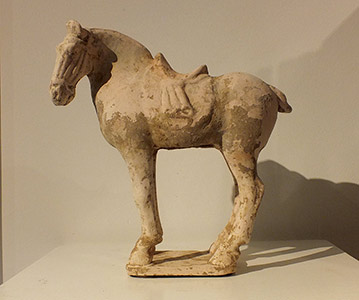 Painted Red Pottery Saddled Horse
Tang Dynasty (618-907 A.D.)
High 30 cm.
With the original colours.
Excellent condition. An intact (not broken or repaired).
Note: A Certificate of Authenticity from Becker Antiques (antique dealers since 1969, Amsterdam) will accompany the item.
– The result of the thermoluminescence test, is consistent with the dating of the item.
Painted Red Pottery Saddled Horse. Finely modelled standing foursquare with head turned to the left, the mouth very detailed and ears picked, with hogged mane and docked tail, the saddle covered with a knotted cloth set atop a blanket painted with scrolling foliage.
A similar horse is illustrated in Jacques Barrere, Art d'Extreme Orient, Paris, 1991, pp. 50-51,
Please be advised that the figure is genuine – real and original. It has been not compose and made from two or three different horses in one. The polychrome is also original. A perfect piece. The item is describe as it is or your money back.
---
Complete the contact form below to request more information about this item.