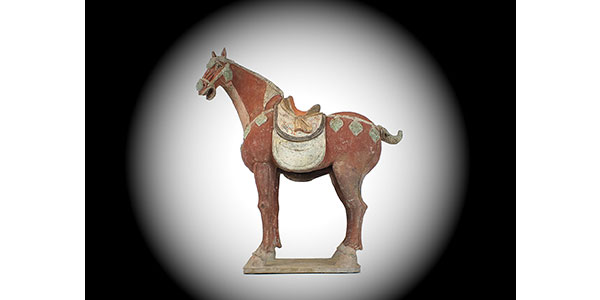 Special Large Caparisoned Horse
S O L D
Special Large Caparisoned Horse. Outstanding pottery "mingqi" representing a painted pottery model of a caparisoned horse
Red earthenware coated with white slip and remains of yellow, green, orange, white, black and red pigment.
Gongyi region, Henan province
Tang Dynasty, early 8th century
Height 64 cm., wide 65 cm.
Provenance: old Dutch private collection, Amsterdam
Excursively detailed and beautifully proportioned, the horse stands with tall legs foursquare on a rectangular base, its head tucked in and turned slightly to the left. The face display nice expressions, with finely detailed, deeply set eyes with painted pupils and lashes. The manes differ: one is hogged. The animal has wide forelocks, parted between picked ears. The tail is docked-wrapped and tied in a turned-up position. The saddle of the horse sits atop a thick blanket covered with a long, green saddle cloth gathered on each side into deep folds. The horse is harnessed with leather bridle, chest and crupper straps, as well as straps hanging pendant from the saddle cantle. All the straps are accented with square, rectangular, and T-shaped blue plaques decorated in low relief with stylized flower blossoms. The crupper strap is further embellished with leaf-shaped pendants, while the chest strap is garnished with tear-shaped tassels. The animal wears a decorative face frontlet on its foreheads. Paint is sparingly used in highlighting details, red for the mouths and ears, russet-brown for the leather harnesses and hogged mane, and black for the eyes.
The full mane, decorative harness straps, pendants, and forelocks were pressed from thin slabs of clay and appliqued in place. Hand-modelling was required to finish the saddles, tails, ears, and manes.
– The results of thermoluminescence tests (Tl. Nr 02B190221) are consistent with the dating of this object, 1260 years old, Tang dynasty.
– Extra test: Pre-dose test has been done: Pre-dose test confirms old firing without any kind of artificial x-ray treatments!
– A certificate of authenticity by Becker Antiques (specialist in Chinese pottery since 1969, Amsterdam) will accompany the item.
Important information.
It will be professionally packed and safely send in a wooden crate by FedEx.
Buyers are responsible for import regulation and restrictions of their own country
About us
Becker Antiques is one of the most leading reputable antique dealers in the Netherlands. Becker Antiques is a name and place that speaks of excellent antiques and art, outstanding service and worldwide expertise. Founded in 1969 by Jan Simon Becker, Becker Antiques is based in Museum quarter, Amsterdam Oud-Zoud, in a magnificent five-floor townhouse build 1891, at a few minutes from "Rijksmuseum" (National Museum of Art), the Van Gogh Museum and the famous "Royal Concertgebouw".
Becker Antiques main field covers ceramics – pottery funerary figures (dated from the Han through the Ming dynasties), Buddhist sculptures and other Chinese works of art. Our other sections are Asian works of art – concerns objects from Japan and South East Asian countries including bronze, stone and wooden sculptures, Chinese furniture from the Qing Dynasty and of course occasional other items.
For the last 52 years we have been selling antiques to museums, private collectors and dealers all over the world.
Complete the contact form below to request more information about: Special Large Caparisoned Horse