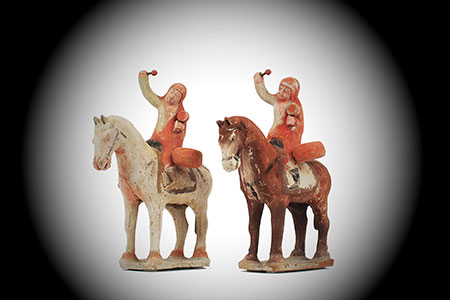 Sui Dynasty Mounted Warriors
S O L D
Sui Dynasty Mounted Warriors. The warriors are masterpieces and very rare regarding its style, details, original pigment and period (Sui dynasty).
China, Perfect condition
Original colour! Very important.
An Extremely Rare Pair of Pottery Figures of Mounted Warriors
Each of the horses is mounted with a saddle upon which sits a warrior wearing a hood with round top (fengmao) and a tunic with an overlapping front. The pair of shaking drums (taogu) in their hands suggests that they are conducting a military orchestra. They are probably members of the guard of honor to the Sui dynasty.
Outstanding pottery "mingqi" representing a painted pottery figures of mounted warriors.
Red earthenware coated with white slip and remains of yellow, orange, white, black, green and red pigment.
Sui Dynasty (581-618), very rare!!!
High 25,5 and 26 cm, Wide 20 and 21 cm. Original pigments!
Provenance:
– China and India Company Paris (Inv. number 24137)
– Dutch private collection, Amsterdam
– The results of thermoluminescence tests are consistent with the dating of this object. Sui dynasty (ca. 1430 years old). Sampling in 4 different points.
– Extra test: Pre-dose test has been done: Pre-dose test confirms old firing without any kind of artificial x-ray treatments!
Literature: Very similar pair of mounted warriors is illustrated in "The Art of Chinese Ceramics from Han to Tang" Selected treasures from the Dr. T.T. Tsui Donation, p. 69.
Important information.
It will be professionally packed and safely send in a wooden crate by FedEx.
Buyers are responsible for import regulation and restrictions of their own country
About us
Becker Antiques is one of the most leading reputable antique dealers in the Netherlands. Becker Antiques is a name and place that speaks of excellent antiques and art, outstanding service and worldwide expertise. Founded in 1969 by Jan Simon Becker, Becker Antiques is based in Museum quarter, Amsterdam Oud-Zoud, in a magnificent five-floor townhouse build 1891, at a few minutes from "Rijksmuseum" (National Museum of Art), the Van Gogh Museum and the famous "Royal Concertgebouw".
Becker Antiques main field covers ceramics – pottery funerary figures (dated from the Han through the Ming dynasties), Buddhist sculptures and other Chinese works of art. Our other sections are Asian works of art – concerns objects from Japan and South East Asian countries including bronze, stone and wooden sculptures, Chinese furniture from the Qing Dynasty and of course occasional other items.
For the last 52 years we have been selling antiques to museums, private collectors and dealers all over the world.
Complete the contact form below to request more information about: Sui Dynasty Mounted Warriors