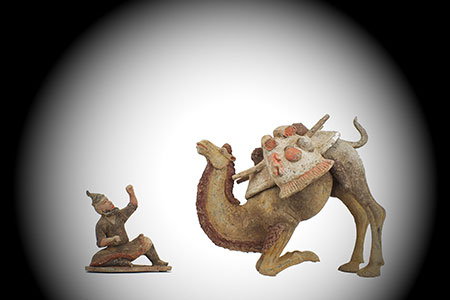 Tang Dynasty Crouching Bactrian Camel
S O L D
Tang Dynasty Crouching Bactrian Camel. A Tang dynasty terracotta camel and groom mingqi – or "vessels for ghosts"
Extremely Rare Large Pottery Crouching Bactrian Camel & Foreign Groom
Our Guarantee: The above item is guarantee to be of the time period and condition as described, has been exported legally and is legal to buy and sell under all international lows to cultural patrimony.
Earthenware with pigments
Early Tang Dynasty (618-907) |late 7th – early 8th centuries.
Camel – Long 39 cm., high 34 cm.
Groom – High 18 cm., wide 18,5 cm.
Total 3 pieces (camel, saddle and the groom)
Lingtai region, Guansu province
With the original pigment!
Provenance: Old Dutch private collection, acquired back in the 1990's, and thence by descent.
This earthenware figure depict a Bactrian camel and its foreign groom. Powerfully modelled animal with its forelegs folded beneath it and hindlegs extended as if in the process of sitting or standing, with the furry neck turned to the left. The camel is adorned with saddle (made in two parts extremely rare!) bags laden with cloth, jade, bamboo, perfume, tea and animals. The groom is wearing a black tunic, and he raises his arms with clenched fists as if holding the reins of his respective charge. The driver is wearing Central Asian dress consisting of a tight, long-sleeve, three-quarter-length tunic with open lapels revealing red and light-green linings. The layered tunic is worn over trousers along with knee-high boots. The foreign garments cut is functional, intended to facilitate the riding of camels and horses. The scowling face is with beard, with aquiline nose and deep-set eyes detailed with black pigment on a pink ground.
Note: Camel mingqi first came to the attention of scholars in the 1870s, when ancient tombs were unearthed during the construction of China's railroads. An exhibition of Chinese ceramics at London's Burlington Fine Arts Club in 1910 included one camel of 'buff white pottery, colored red'.
The camels soon proved popular among European collectors: in 1916, Anthony Gustav de Rothschild (1887-1961) paid the princely sum of £135 for his mingqi camel, while the famous archaeologist Sir Max Mallowan (1904-1978) presented his wife — the English author, Dame Agatha Christie (1890-1976) — with another as a memento of their time spent travelling the Silk Road together. Coco Chanel (1883-1971) even kept two on display in her apartment on Paris's rue Cambon.
Expert's note: There are lots of well-known Tang dynasty camels in major museum collections, such as the British Museum, the Ashmolean, the Met and the Philadelphia Museum of Art, but I don't think I've ever come across another camel and the groom in this pose.
This is one of a kind!
– A Certificate of Authenticity from Becker Antiques (specialist in Chinese pottery since 1969, Amsterdam) will accompany the item.
– Scientific Report for the set of the camel and groom:
A thermoluminescence analysis report issued by Laboratory R. Kotalla on April 23th, 2021, based on sample number 04B220421, sets the firing date of all three (4) samples taken at 1380 years ago. A copy of the report, issued by Lab. Kotalla, is accompanying this lot. TL test.
– Extra test: Pre-dose test has been done: Pre-dose test confirms old firing without any kind of artificial x-ray treatments!
Important information.
It will be professionally packed and safely send in a wooden crate by FedEx.
Buyers are responsible for import regulation and restrictions of their own country
The seller will take care that any necessary permits, like an export license will be arranged, he will inform the buyer about the status of it if this takes more than a few days.
About us
Becker Antiques is one of the most leading reputable antique dealers in the Netherlands. Becker Antiques is a name and place that speaks of excellent antiques and art, outstanding service and worldwide expertise. Founded in 1969 by Jan Simon Becker, Becker Antiques is based in Museum quarter, Amsterdam Oud-Zuid, in a magnificent five-floor townhouse build 1891, at a few minutes from "Rijksmuseum" (National Museum of Art), the Van Gogh Museum and the famous "Royal Concertgebouw".
Becker Antiques main field covers ceramics – pottery funerary figures (dated from the Han through the Ming dynasties), Buddhist sculptures and other Chinese works of art. Our other sections are Asian works of art – concerns objects from Japan and South East Asian countries including bronze, stone and wooden sculptures, Chinese furniture from the Qing Dynasty and of course occasional other items.
For the last 52 years we have been selling antiques to museums, private collectors and dealers all over the world.
Complete the contact form below to request more information about: Tang Dynasty Crouching Bactrian Camel