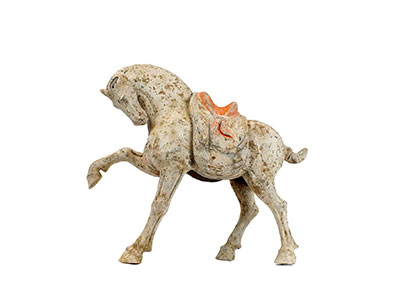 Tang Pottery Prancing Horse
S O L D
Tang Pottery Prancing Horse. Well modeled walking in a spirited pose, with right front leg raised, head drawn in and mouth closed, ears pricked, the powerful arched neck channeled for insertion of the mane. The body covered in a white color, the separate saddle with a knotted cloth painted in reddish-orange and black pigments. Extensive remains of pigment.
The small, lean-featured head, the thick neck and the belly are typical Tang renderings of an Arabian. Also worthy of note is that the widely separated ears, both twisting backward (only few Tang horses were made like this and could be found in the present market)
Very good condition.
Tang dynasty (618-907)
Height 38 cm. Wide 44 cm.
With the original pigment! Very important.
Truly a masterpiece.
Provenance: A Dutch private collection, acquired in the mid-20th century (ca. 1960's), and thence by descent.
– Outstanding and monumental pottery "mingqi" representing a painted grey pottery model of a prancing horse.
– Grey earthenware coated with white slip and remains of brown, black and red pigment.
– A Certificate of Authenticity from Becker Antiques (specialist in Chinese pottery since 1969, Amsterdam) will accompany the item.
– The result of the thermoluminescence test, is consistent with the dating of the item, Tang dynasty. Sampling in 3 different points
Important information.
It will be professionally packed and safely send in a wooden crate by FedEx.
Buyers are responsible for import regulation and restrictions of their own country
About us
Becker Antiques is one of the most leading reputable antique dealers in the Netherlands. Becker Antiques is a name and place that speaks of excellent antiques and art, outstanding service and worldwide expertise. Founded in 1969 by Jan Simon Becker, Becker Antiques is based in Museum quarter, Amsterdam Old-South (Oud-Zoud), in a magnificent five-floor townhouse build 1891, at a few minutes from "Rijksmuseum" (National Museum of Art), the Van Gogh Museum and the famous "Royal Concertgebouw".
Becker Antiques main field covers ceramics – pottery funerary figures (dated from the Han through the Ming dynasties), Buddhist sculptures and other Chinese works of art. Our other sections are Asian works of art – concerns objects from Japan and South East Asian countries including bronze, stone and wooden sculptures, Chinese furniture from the Qing Dynasty and of course occasional other items.
For the last 50 years we have been selling antiques to museums, private collectors and dealers all over the world.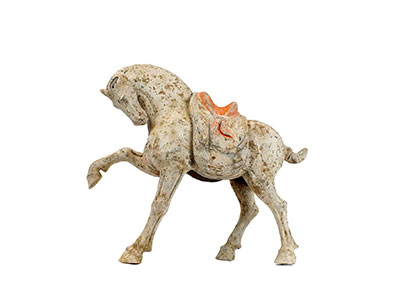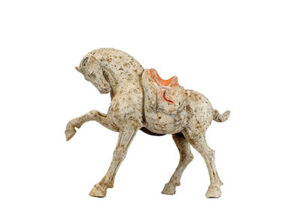 Complete the contact form below to request more information about: Tang Pottery Prancing Horse