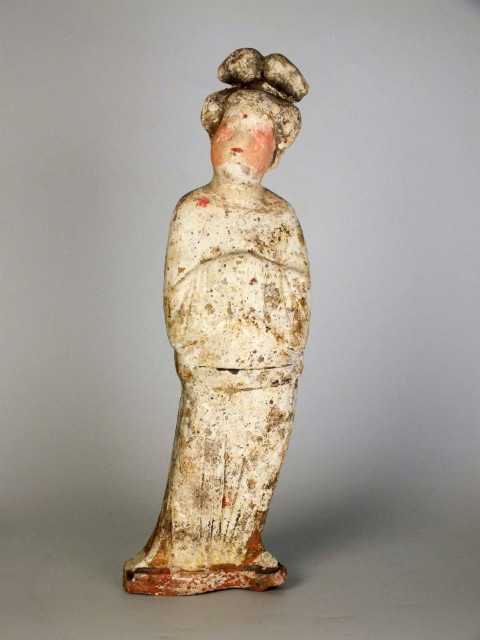 S O L D
Tang Dynasty Fat Lady
Tang Dynasty Fat Lady, this handsome figure is standing slightly swayed to the left, with painted shoes, the arms hidden within the voluminous sleeves of her long robes gathered with a belt around the hip, her beautiful face modelled with delicate features below the black curved hairline and up swept double loop of her coiffure, her head turned slightly to the right, traces of red, black and white pigment.
High 30 cm., TL- test
Tang Dynasty (618 – 907 A.D.),China
* This beautiful figure with other pottery court ladies of this type is an example of the court ladies that became fashionable in the middle of the 8th Century beginning in the reign of Xuanzong and continuing to the time of Emperor Daizong. These court ladies were the "ideal"woman from earlier standards. See The Quest for Eternity, Los Angeles County Museum, 1987, nos. 83 and 84.

Complete the contact form below to request more information about this item
[contact_form ]