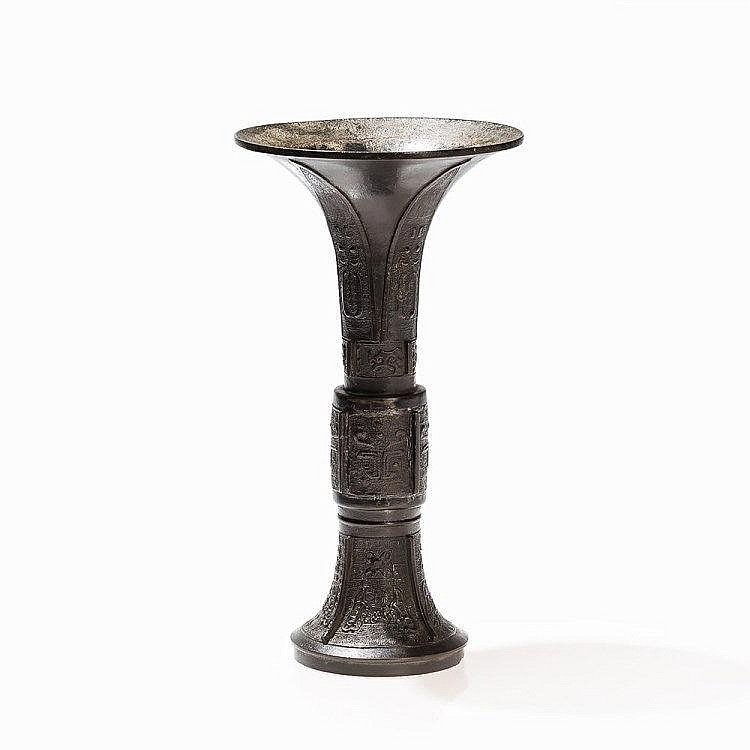 S O L D
Bronze Gu Vase Ming Dynasty
Ming Dynasty, China
High 33 cm.
Bronze Gu Vase Ming Dynasty, large bronze Gu vase. The elegantly shaped wine vessel is very well and crisply cast in relief with its trumpet form neck decorated with four elongated tapering and ornamented "liewen – ground" blades each with a high, vertical and notched flanges in the centre, an extremely rare and unusual for gu vessels, above a narrow band with four "kui"– dragons, all arranged in the same direction to the right and separated by the high, flanges. The waist is decorated with a frieze of two elaborated dissolved taotie wit equally high, vertical flanges in the centre. A pair of bowstring bands below separate the waist frieze from the spreading foot with a broad band of two large, dissolved "taotie"  with round eyes, and above them a narrow band of four "kui "– dragons facing to the right.
A similar vase of ceramics can be found in the Metropolitan Museum of Art in New York (Accession no. 1984.472) and in the Hong Kong Museum of Art
GU
A GU is a form of Chinese ritual bronze vessel from the Shang and Zhou dynasties, used to drink wine or offer ritual libations. A GU is tall and slender with a flared base, a slim center section and a trumpet-shaped mouth that is wider than the base.
---
Complete the contact form below to request more information about this item.