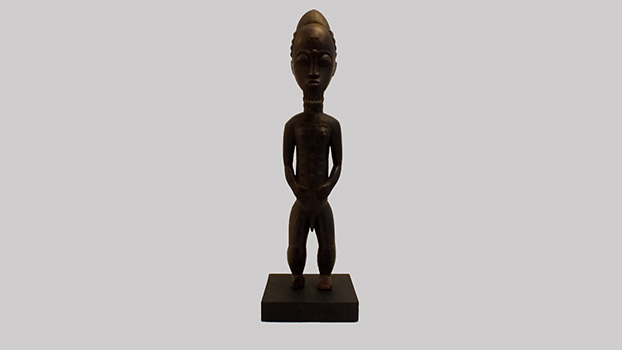 S O L D
Exceptional Baule Male Figure
High 48 cm., wooden base
P R O V E N A N C E: Dutch private collection
Exceptional Baule Male Figure, standing on a wooden base. With finely incised feet supporting powerful bent legs and protruding buttocks and pendant phallus beneath a slender columnar torso framed by the finely carved hands splayed on the abdomen. The oval head with forward projecting facial plane and tapering chin with pendant beard. The figure has circular ears high on the head and surmounted by a back swept coiffure terminating in two braids at the back. The Baule sculpture has raised scarification on the torso, neck temples and forehead. Rich dark brown  patina.
This impressive Baule male figure is an exceptional example of Baule sculptures. The figure was collected by a member of the owner's family in the 1960's and has remained in the family since that time.
---
Complete the contact form below to request more information about this item.