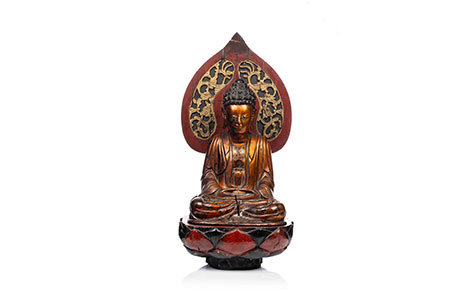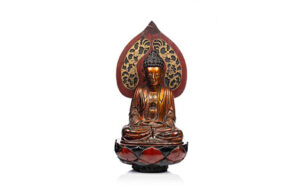 Gild Wood Buddha Vietnam
Gild Wood Buddha Vietnam, depicting the Buddha seated in meditation on a base in the shape of lotus flowers, both hands placed in dyanamudra, in front of a mandorla decorated with two stylized dragons among foliage scrolls. The face looks serene, the hair done in curls and topped with the ushnisha.
Height: 90 cm
19th century, Vietnam
Provenance: France collection, Paris, France.
-Giác Lâm Temple (Vietnamese: Chùa Giác Lâm; chữ Hán: 覺林寺, Giác Lâm tự) is a historic Buddhist temple in Ho Chi Minh City, the largest city in Vietnam. Built in 1744, it is one of the oldest temples in the city. It was officially listed as a historical site by the Vietnamese Department of Culture on November 16, 1988, under Decision 1288 VH/QD.[1] The temple is located at 565 (previously 118) Lạc Long Quân, Ward 10, Tân Bình district, near Phú Thọ Hòa region of the city (which is now a ward of Tân Phú district, founded after separated Tân Bình district in 2003).[1] It stands on Cẩm Sơn, and is also known as Cẩm Đệm and Sơn Can.
History
It was built by Lý Thụy Long, a native of Minh Hương, in the spring of 1744, i.e., during the season of the Vietnamese new year, during the reign of Nguyễn Phúc Khoát of the Nguyễn Lords, then the ruling family of southern Vietnam. The history chronicles of Gia Định, the then name of the settlement that later became Saigon and then Ho Chi Minh City, written by Trịnh Hoài Đức describes the area as being quite undeveloped at the time, with dense foliage resembling a jungle. The area was surrounded by flower gardens. In its formative years, the temple was a gathering place during the Tết new year and the temple was a scenic lookout on a hill overlooking the Gia Định markets.[1]
In 1772, Thích Viên Quang of the Lâm Tế Thiền lineage arrive to become the abbot of the temple. From then on, the temple was known by its current name of Giac Lam.[1]
The temple has gone through many periods of renovation and reconstruction. The first notable period of renovation took place between 1799 and 1804, when Thích Viên Quang allowed the total reconstruction of the temple. From 1906 until 1909, Thích Hồng Hưng, with the assistance of Thích Như Phòng, organised for a second total renovation and rebuilding of the temple. The history of these renovations is recorded and is on display in the main hall of the temple.[1]
Complete the contact form below to request more information about: Gild Wood Buddha Vietnam