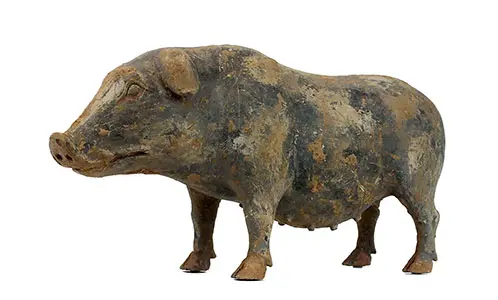 Han Grey Earthenware Sow
S O L D
Han Grey Earthenware Sow. Well modeled standing on her short legs that lift a full belly and her head staring forward with two circular perforations to the snout, the grey body fabric visible beneath the thick layer of white pigment and brown burial deposits
A Grey Earthenware Model of a Standing Sow
Fired in antiquity!!!
China, Perfect condition
Western Han Dynasty ( 206 B.C. – 220 A.D.)
Our Guarantee: The above item is guarantee to be of the time period and condition as described, has been imported/exported legally and is legal to buy and sell under all international lows to cultural patrimony.
Provenance: very important and old private Dutch collection, Mr. W. R., The Netherlands
Long 42 c., high 22 cm.
For a similarly posed sow of painted pottery (length 42.5 cm), see the Exhibition of Art Treasures from Shanghai and Hong Kong (Hong Kong University, 1996), cat. no. 15, left.
Compare as well two similar sows exhibited in the Han Yangling Museum in Xí an and illustrated in the museum catalogue page 26-27, fig. 38. See photo
The creation of pottery funerary sculpture is thought to have originated during the Shang (c. 1500 – 1028 BC) and Zhou periods (1028 – 256 BC), a practice that was adopted as a substitute for human sacrifices.[1] This custom was developed during the Han dynasty, which is well known for the variety of tomb ceramics that were produced.[2] This amusing and finely potted figure of a sow is rare in Han period pottery. A group of stone pigs of various sizes and dated to the Western Han dynasty was unearthed from Changsha, Hunan province in 1956.
Los Angeles County Museum of Art, The Quest for Eternity: Chinese Ceramic Sculpture from the People's Republic of China, Thames & Hudson, 1987, p. ix
Bower, V. and Mowry, R. D. ed. From Court to Caravan: Chinese Tomb Sculptures from the Collection of Anthony M. Salmon, Harvard University Art Museum, New Haven and London, 2002, p. 29
– A certificate of authenticity from Becker Antiques (specialist in Chinese pottery since 1969, Amsterdam) will accompany the item.
– All items can be bought/sold legally under the cultural patrimony covering The Netherlands and are guaranteed to be as described, or else your money will be refunded.
– The result of the thermoluminescence test, is consistent with the dating of the item, Tang dynasty, 1930 years old. Sampling of 3 different points.
– Extra test: Pre-dose test has been done: Pre-dose test confirms old firing without any kind of artificial x-ray treatments!
Important information.
The seller guarantees that he is entitled to ship this lot.
It will be professionally packed and safely send in a wooden crate by FedEx.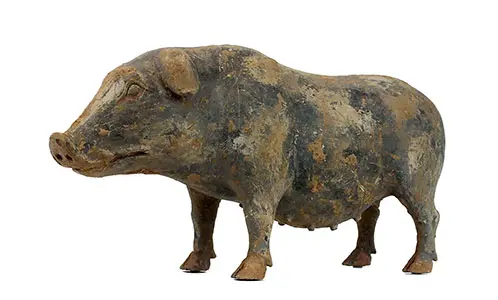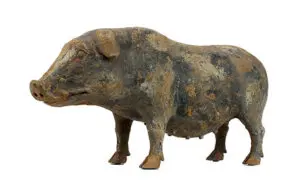 Complete the contact form below to request more information about: Han Grey Earthenware Sow