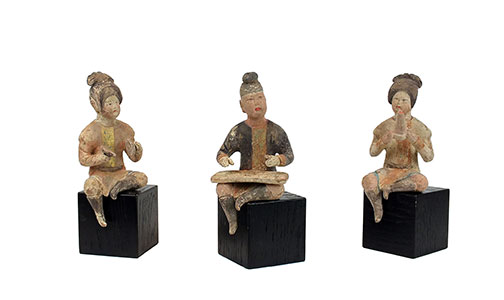 Three Tang Pottery Musicians
S O L D
Three Tang Pottery Musicians. All three musicians seated, with one leg raised, wearing same long sleeved robes above black boots. The softly modelled faces detailed in red and black pigment on a white slip beneath the black hair drawn in hairdo by the four female and up in a knot by the male. One playing a mouth-organ (sheng), the others cymbals and qin.
A Set of Three Painted Pottery Figures of Female and Male Musicians
China, Perfect condition
Height 19-20 cm., each. On nice custom made wooden stands painted in black.
Tang dynasty (618-907)
Provenance: Old Dutch private collection, acquired back in the 1990's.
Superb and Most Rare pottery "mingqi" representing a set of three (3) female and male musicians. One male and two female musicians.
Grey earthenware coated with white slip and remains of white, light and dark blue, pink, yellow, ,red, black and brick-red pigment.
Auction result comparison: Compare with a closely related set of two musicians at Christies New York in Fine Chinese Ceramics & Works of Art part I, 17 – 18 March 2016, lot 1479, sold for USD $27,500.
– Scientific Report for the set of the three musicians:
A thermoluminescence analysis report issued by Laboratory R. Kotalla on October 23th, 2020, based on sample number 03R211020, sets the firing date of all three (3) samples taken at 1350 years ago. A copy of the report, issued by Lab. Kotalla, is accompanying this lot. TL test.
– Extra test: Pre-dose test has been done: Pre-dose test confirms old firing without any kind of artificial x-ray treatments!
Kucha (or Kuche) was an ancient Buddhist kingdom located on the branch of the Silk Road that ran along the northern edge of the Taklamakan Desert in the Tarim Basin and south of the Muzat River.
Literature comparison: These four figures are similar to a group of ten seated female court musicians in the Shoso-in, Japan, illustrated by Ryoichi Hayashi in The Silk Road and the Shoso-in, New York/Tokyo, 1975, p. 96, fig. 103. Three similar painted pottery figures of seated female court musicians illustrated by J. Baker in Appeasing the Spirits: Sui and Tang Dynasty Tomb Sculpture from the Schloss Collection, Hofstra Museum, Hofstra University, 1993, p. 18, no. 9, are described as wearing Kuchean fashions, and representing the Kuchean modes of music and entertainment that were popular during the Sui and early Tang periods. The same costume and Kuchean hair style can also be seen on a group of standing figures illustrated p. 17, nos. 6 and 7. In discussing a group of nine similarly attired and coiffed standing figures of female musicians illustrated in China: A History in Art, New York, 1979, p. 132 (top), the authors, B. Smith and Wango Weng, note that female musicians from Chinese Turkestan played for the court, and that "musicians from Kucha in Central Asia probably exerted the most influence" at court.
Important information.
It will be professionally packed and safely send in a wooden crate by FedEx.
Buyers are responsible for import regulation and restrictions of their own country
About us
Becker Antiques is one of the most leading reputable antique dealers in the Netherlands. Becker Antiques is a name and place that speaks of excellent antiques and art, outstanding service and worldwide expertise. Founded in 1969 by Jan Simon Becker, Becker Antiques is based in Museum quarter, Amsterdam Oud-Zoud, in a magnificent five-floor townhouse build 1891, at a few minutes from "Rijksmuseum" (National Museum of Art), the Van Gogh Museum and the famous "Royal Concertgebouw".
Becker Antiques main field covers ceramics – pottery funerary figures (dated from the Han through the Ming dynasties), Buddhist sculptures and other Chinese works of art. Our other sections are Asian works of art – concerns objects from Japan and South East Asian countries including bronze, stone and wooden sculptures, Chinese furniture from the Qing Dynasty and of course occasional other items.
For the last 51 years we have been selling antiques to museums, private collectors and dealers all over the world.
Complete the contact form below to request more information about: Three Tang Pottery Musicians