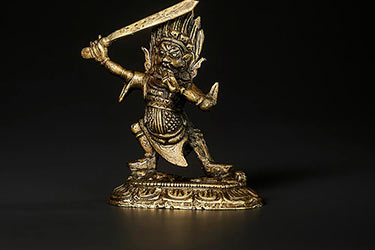 Tibeto Chinese Bronze Figure Begtse
Tibeto Chinese Bronze Figure Begtse. Begtse is portrayed standing in alidhasana with a horse and vanquished human underfoot, the left hand holding a human heart towards the growling mouth, the right holding a flaming sword with its handle carved in the shape of a horse's head, clad in armor with a string of human heads worn as a tiara, the fearsome countenance with three protruding eyes, beneath flaming hair. The lotus base unsealed.
Cast bronze with finely incised and chiseled detail work. Fine patina
Tibet / China, 18th – 19th century
One of the eight wrathful protectors of Buddhist doctrine, Begtse is an important guardian of the Geluk order.
Shape: Sculptural
Weight: 105,5 grams
Dimensions: 7,5 cm height
Condition: Good condition with wear, traces of use and some minor dents, unsealed
Provenance: Property from a Dutch private collection acquired pre-1990
Auction result comparison: ASIAN ART. Sotheby's, 19 MARCH 2016, NEW YORK, lot 1351. (for a gilt bronze with the same subject, but larger)
清代銅大紅司命主立像
銅鑄,雕工細膩,包漿良好
西藏/中國,18至19世紀
品相良好,些許磕碰,底部未封
荷蘭私人收藏,於1990前取得
---
Complete the contact form below to request more information about this item.