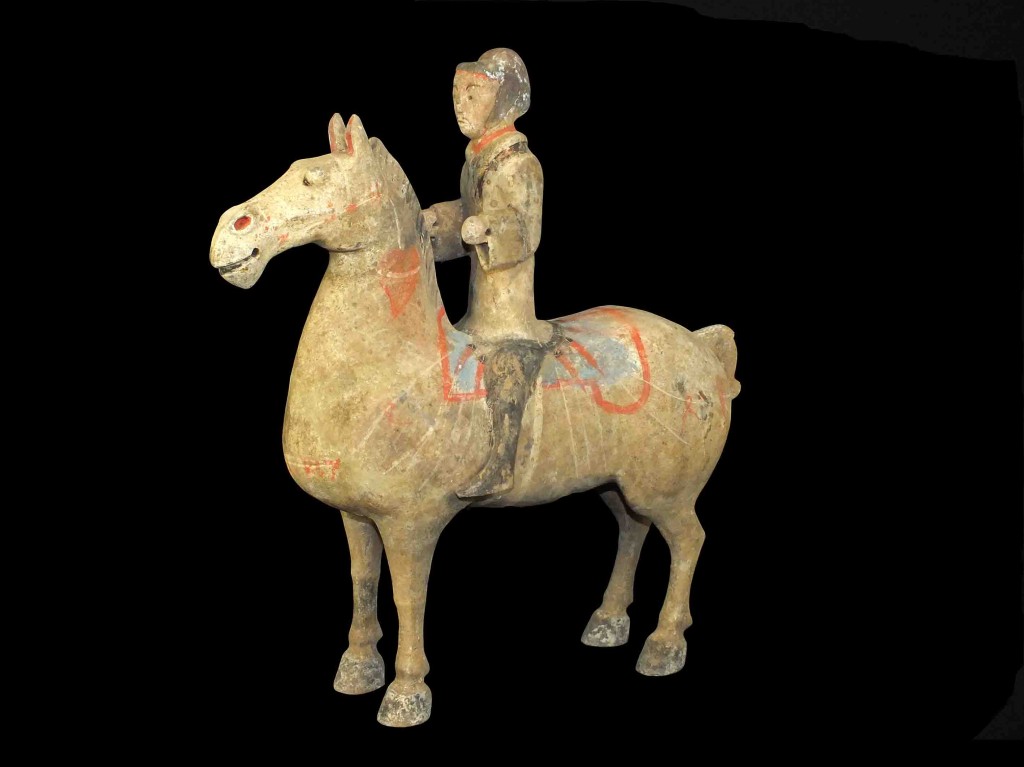 [wpsgallery]
 S O L D
Horse with Rider
Western Han dynasty (206 B.C. – 8 A.D.)
High 35 cm., long 33 cm.
Horse with Rider, a Han dynasty painted pottery horse with rider, the rider dressed in a soldier's grab of leather helmet and black armour worn over a beige tunic with decorated black border, his skirt flared out in back atop the saddle blanket, the blanket with blue pigments which is very unusual, his hands are positioned to hold reins, the stocky horse standing four square with pricked ears, docked tail, cropped mane and details painted in black and red, this horse with an impressive mark on its chest, also white, red, blue, black and beige pigments.
 * Compare this horse with rider with similar  figures, dated to he early Western Han, unearthed in 1965 at Yandjiawan, near Xianyang, Shaanxi province. Burials containing large numbers of mounted cavalryman and foot soldiers were found in the vicinity of the tombs of the first Han emperor, Gaozu, and the emperor Jingdi at Yandjiawan. See Wenwu  1966: 3, pl. 1-4 and Wenwu   1977:10, pl. 17. See also , The Quest for Eternity, Los Angeles County Museum of Art, 1987, Catalogue, p. 105, fig. 15
The result of the thermoluminescence test, is consistent with the dating of the item.
Complete the contact form below to request more information about this item
[contact_form ]
---