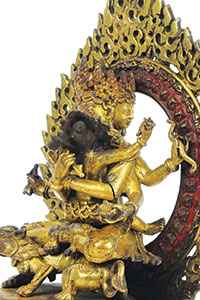 Large Gilt-Bronze Vajrasattva
Large Gilt-Bronze Vajrasattva.  Gilt bronze group of Vajrachatuhpitha with three heads and six arms holding in vajrahumkara two vajra, the bell, axe, arrow and snake, sitting in vajrasana in yab yum with its parèdre on a lion on the lotus in front of the flaming mandorla.
A Rare Gilt-Bronze Group of Vajrasattva in Union with Vajramamani
Nepal, 17th – 18th century
Height 27 cm.
S O L D
Almost 30 cm. in height, this large, gilt-bronze figure of a Vajrasattva in Union with Vajramamani was made some time between the 17th and 18th centuries by the renowned Newar artisans of the Kathmandu Valley in Nepal.
Auction result comparison: For a closely related of Vajrasattva from Nepal , sharing the near identical detail features but smaller (diam.: 19 cm) and letter 19th century see, Bonham's Hong Kong, Fine Chinese Ceramics and Works of Art 26 November 2019, , lot numbers15 sold for HK$ 150,625 (€ 16,490)
Provenance: Old and important French private collection, Paris, France
– A certificate of authenticity from Becker Antiques (specialist in Asian art since 1969, Amsterdam) will accompany the item.
Our Guarantee: The above item is guarantee to be of the time period and condition as described, has been exported legally and is legal to buy and sell under all international lows to cultural patrimony.
Important information.
It will be professionally packed and safely send in a wooden crate by FedEx.
Buyers are responsible for import regulation and restrictions of their own country
About us
Becker Antiques is one of the most leading reputable antique dealers in the Netherlands. Becker Antiques is a name and place that speaks of excellent antiques and art, outstanding service and worldwide expertise. Founded in 1969 by Jan Simon Becker, Becker Antiques is based in Museum quarter, Amsterdam Oud-Zoud, in a magnificent five-floor townhouse build 1891, at a few minutes from "Rijksmuseum" (National Museum of Art), the Van Gogh Museum and the famous "Royal Concertgebouw".
Becker Antiques main field covers ceramics – pottery funerary figures (dated from the Han through the Ming dynasties), Buddhist sculptures and other Chinese works of art. Our other sections are Asian works of art – concerns objects from Japan and South East Asian countries including bronze, stone and wooden sculptures, Chinese furniture from the Qing Dynasty and of course occasional other items.
For the last 51 years we have been selling antiques to museums, private collectors and dealers all over the world.
*Vajrasattva
Vajrasatva (Sanskrit: वज्रसत्त्, Tibetan: རྡོ་རྗེ་སེམས་དཔའ། Dorje Sempa, short form is རྡོར་སེམས། Dorsem, Монгол: Доржсэмбэ) is a bodhisattva in the Mahayana, Mantrayana/Vajrayana Buddhist traditions. In the Japanese Vajrayana school of Buddhism, Shingon, Vajrasatva is the esoteric aspect of the bodhisattva Samantabhadra and is commonly associated with the student practitioner who through the master's teachings, attains an ever-enriching subtle and rarefied grounding in their esoteric practice. In Tibetan Buddhism Vajrasatva is associated with the sambhogakāya and purification practice.
Vajrasatva appears principally in two Buddhists texts: the Mahavairocana Sutra and the Vajrasekhara Sutra. In the Diamond Realm Mandala, Vajrasatva sits to the East near Akshobhya Buddha.
In some esoteric lineages, Nagarjuna was said to have met Vajrasatva in an iron tower in South India, and was taught tantra, thus transmitting the esoteric teachings to more historical figures.
His Mantra is Oṃ Vajrasatva Hūṃ