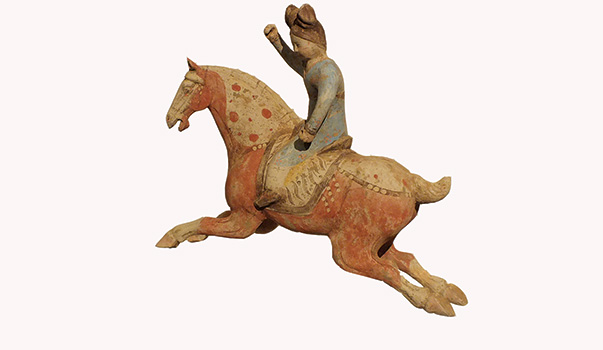 S O L D
Rare Female Polo Player
A Rare Painted Red Pottery Female Polo Player Astride A Galloping Pony
Tang Dynasty, China
36 cm. long, plastic stand
P R O V E N A N C E: From a Dutch private collection
The results of thermoluminescence tests are consistent with the dating of this object.
Rare Female Polo Player, the spirited horse naturalistically and dramatically modelled as in full gallop with all four legs extended and hoofs of the ground. The rider seated firmly in her saddle with feet stretched forward in the stirrups. Her body twisted at the waist and dressed in long tight-fitting costume. With her right arm raised to strike, her softly modelled face detailed in black and red pigment on a white slip beneath the black hair drawn up into a double topknot, much of the original pigment remaining.
This figure is closely related to the well-known group of four female polo players in the Nelson-Atkins Museum of Art, Kansas City, referred to in the Handbook of the Collections, Kansas City, 1959, p. 208; cf. also M. Medley, Tang Pottery and Porcelain, pl. 41, pl. 51; compare further the polo player exhibited ant the International Exhibition of Chinese Art, Royal Academy of Arts, London, 1953-6, Catalogue. pl. 2432, p. 223.
---
Complete the contact form below to request more information about this item.