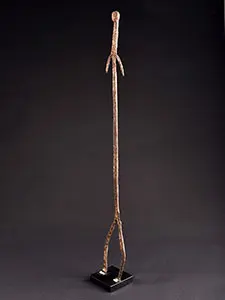 An Moba Iron Figure
S O L D
An Moba Iron Figure. This tall, iron altar figure is the work of the Moba tribe in Togo. Abstract sculptural form. Oxidised patina. In good condition, custom mounted on a wooden stand.
Moba, Togo. With base
Iron. High  83.5 cm.
Provenance:
Helmut and Marianne Zimmer, Zurich.
*Moba People of Togo.
Moba People can be found in the Northern part of Togo they are related to the Kabiye/ Kabye People of Togo and they are part of the Gur Speaking branch according to Anthropologist they migrated South from Feda Ngourma in Present day Burkina Faso towards the end of the 17th Century, later they were driven north by the Mamprusi and Dagomba using Chokosi mercenaries to the part of the country that they inhabit they also carved Masks and Sculptures their traditional helmet is made up of Shells, Beads and Cowries their figure which is carved is referred as Tchitcheri is used in homes and other places in their villages their ancinet upper karawari cave figure is a pre contact and stone carved. Moba Caves is where they protected themselves from wars and the attack of their enemies and when the German came they were used to escape forced labor these caves are in the size of the mountain which is the size of the foothills of cascades and on a cliff face the caves were little stretchy but quite amazing it could house 200 or more people their animals and food for several months there was a natural spring which gave them water to drink and for cooking the ladders were even used to descend when they got down by climbing up the down side of the side of the cliffs, the Moba Chief gathered 300 of the best hunters it had rained little that year and during dry season the hunters go for hunting, fishermen go for fishing after fishing they collect water for the upcoming months and  cave in Dapong.  During the early 1800s there was a  war between the Tchokossi tribe and the Moba tribe.  The Tchokossi migrated to Togo from the Ivory Coast,  their  weapons were good comparing  to the weapons of the Moba.  The Tchokossi captured the Moba people and made slaves out of them.  For fear of capture, the Moba people sought refuge in these caves.
*From rediscoveringafricaheritag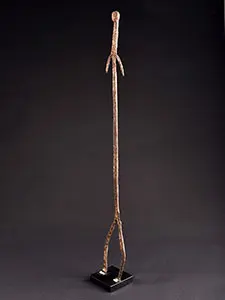 Complete the contact form below to request more information about: An Moba Iron Figure